The anger in Belarus over a tax on the unemployed and other supposed freeloaders can be justified through the absurdity of the law itself.

Andrei Yeliseyeu, for the Transitions Online

Something has clearly been brewing in Belarus. Around 2,000 people protested in Minsk on 17 February in what has come to be known as the "March of Disgruntled Belarusians." Two days later, the streets in some cities filled with thousands more, all of them united in their discontent over a 2015 decree against so-called social parasites.  And, indicating that such demonstrations might have some staying power, more protests took place on 26 February in four regional cities – the biggest in the northern city of Viciebsk with around 2,000 people.
Though it might be this specific degree that triggered such an unusual outpouring of anger in closely controlled Belarus, the demonstrations are ultimately a reaction to the country's economic policies and the long-running poor shape of the economy.
Instead of Supporting the Unemployed, Tax Them
Belarus has always been known for its particularly low, official unemployment rates, usually ranging between 0.3 percent and 1 percent. To compare, in December 2016 the EU-28 unemployment rate was 8.2 percent, while in Russia it stood at 5.3 percent and was as high as 9 percent in Ukraine.
To the dismay of ordinary Belarusians, these minuscule figures in their country are not a reflection of wise economic policies, but rather the result of deceitful statistical games: under Belarusian legislation, you are only unemployed if you are registered with the state employment agency.
However, for the majority of job-seeking Belarusians it makes no sense to address these agencies for two important reasons. Firstly, enterprises seldom inform them of better-paid vacancies, leaving job centers to advertise mostly unqualified positions. But there has been a shortage even of those in the past two years, the result of an economic crisis coupled with runaway inflation. Secondly, unemployment benefits are less than paltry, averaging a mere 13 euros per month – 15 percent of the amount designed as the poverty level.   
Instead of reforming the entire unemployment system to make it effective, in 2015 the Belarusian authorities came up with a simpler, exotic, and, critics say, idiotic solution: imposing a new levy on the unemployed. The tax is a levy of 360 Belarusian Rubles (around 180 euros) on people who are employed for less than 183 days in a given year.
While the law was actually adopted two years ago, the issue has resurfaced after the authorities asked approximately 470,000 people, around 8 percent of the country's workforce, to pay this special tax. Approximately 50,000 Belarusians paid their bills before the deadline of 20 February, but the rest will now have to pay the penalty, with dodgers facing compulsory labor and 25 days in jail.
Housewives, Migrant Workers, and Other "Social Parasites"
In its preamble, the decree states three objectives, each questionable and unachievable under the proposed measures.
First of all, the decree is supposed "to encourage able-bodied citizens to be involved in labor activity."
The problem is that, in Belarus, the dominance of the state sector and the suppression of small- and medium-sized businesses has made its economy unable to offer new work places to jobseekers.  This year, the country's GDP is projected to be negative again, for the third consecutive year. This leads to a cumulated GDP loss of around 7.5 percent compared to 2014, one of the biggest economic declines among all countries in the world over the past three years.
Such an economic downturn is accompanied by a considerable reduction of purchasing power, and mass staff cuts. According to official statistics, in 2015-2016 the number of people fired from state enterprises exceeded by 190,000 the number of newly employed workers. This figure does not include the increase in hidden unemployment, where labor relations with the employer remain only on paper. Furthermore, following the economic stagnation in Russia and the subsequent depreciation of the Russian ruble, thousands of labor migrants returned to Belarus, or reduced the number of their foreign work trips.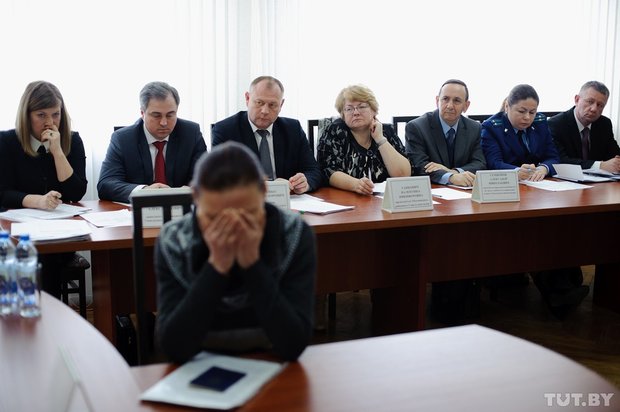 A woman crying in front of a commission granting exemptions from the payment of the unemployment tax because of hard life situations. Image via Ivan Yaryvanovich, TUT.by.
The second objective of the decree is "to ensure compliance with the constitutional obligation of citizens to participate in the financing of state expenditures."
Although indirect taxes such as VAT and excises account for more than a third of budget revenues in Belarus, the authorities nevertheless do not consider these contributions to state expenditures. The decree goes against the tax code, and common sense.  As non-workers have no official income, the new levy is applied to either their allegedly illegal incomes, or their previously earned incomes, or their family members' incomes. In the first case, it is up to state tax agencies to prove that such illegal incomes actually exist, whereas in the other cases we can talk about double taxation.
Finally, the decree refers to the moral aim of "preventing social parasitism."
But who are these "social parasites" at the end of the day? In most cases they are not alcoholics or tax dodgers. Among their ranks, "social parasites" include tens of thousands of Belarusians who were unable to find a job for six months or longer during a calendar year, but have not been registered at state job centers. The media reported one case where a person committed suicide, mentioning in his farewell note the insult of receiving a request from the tax agency to pay this levy.
Furthermore, there are thousands of citizens, such as housewives or people recovering from surgery, who have no illegal sources of income, and live off their own or their family's savings. Thousands of university graduates have no other choice than to work for private companies without official papers. Freelancers and remote workers, who are considered unemployed because of the specificities of Belarusian legislation, also fall under this category, along with temporary labor migrants. Many workers unofficially employed in Russia, who cannot provide official evidence of their absence from Belarus for longer than 183 days a year, have to pay the tax.
The Opposition Proved Insolvent, Again
In fact, a few thousand protestors is not a big number. However, their importance as a social phenomenon in present-day Belarus comes for a number of reasons.
Firstly, the protests spread at the regional level, and involved people who had never taken part in opposition rallies before, thus going beyond the traditional electoral base of the opposition. 
New rallies against the decree are planned in the coming weeks, and there is reason to believe that the number of participants will swell. Until they are well-coordinated and unified, however, they do not pose an imminent threat to Belarusian President Alyaksandr Lukashenka. But in case the protests continue and increase in size, they will delegitimize Lukashenka in the eyes of many and remove his luster of invincibility.
Secondly, the rallies proved the ability of Belarusians to organize themselves through social media – mainly VKontakte, the Russian version of Facebook.
For example, the call to join the next protest against the decree in Viciebsk (the country's fourth-largest city) on 26 February, published on VKontakte's Viciebsk public page, had already gathered more than 600 reposts by 23 February. And an eight-minute video address by blogger Maksim Filipovich, criticizing the decree and state economic policies, has become very popular in another social network, Odnoklassniki. Fueling his anger, Filipovich has been unable to find a job for a long time and now is supposed to pay the tax. Posted on 11 February, the video has so far gathered 2.2 million views, almost 7,000 shares, and more than 11,000 comments.
On the other hand, Belarusian opposition parties and movements are long known for their inability to reach consensus. This time again, instead of united actions against the unpopular decree, a number of old opposition structures, as well as more recent civic movements, did not even join the recent protests. Despite a variety of formal excuses, the main reason for their unwillingness to join is political rivalry with each other. This is often manifested in not supporting the actions called by other opposition members or structures with whom they are not on good terms.
Lukashenka Stands His Ground
As a small concession on behalf of the authorities, an exception was added to the decree for people in the grip of "hard life situations." Given the lack of clear criteria for that definition, local authorities have been deciding on a case-by-case basis. The procedure is humiliating, and can include visits from a special commission to a person's home to check if he or she really lives in dire conditions.
The prototypical authoritarian leader, Lukashenka has been maintaining his strongman image. To him, hesitation and backing down are unacceptable manifestation of weakness.
In this light, Lukashenka's unwillingness to revoke his ineffective, hurtful decree does not come as a surprise. During his seven-hour press conferences in early February he vehemently defended the decree, saying that it is premature to revoke it.
"Don't rush. It might be that it [the decree] brings many useful things into our lives," the president advised. Indeed, there is at least one useful thing about this decree: it will allow Lukashenka to control the state-employed workforce even tighter. The absolute majority of workers in Belarus are employed on fixed, one-year terms, which enables the state to threaten disobedient workers with the termination of their work contracts at the slightest sign of dissent. At times of rising unemployment, and with a new tax in place, many Belarusians will think twice before jeopardizing their jobs, no matter how underpaid they are.
Source of the title photo: Radio Free Europe / Radio Liberty