Around half of all Schengen visas issued globally are issued in just three Eastern European states, i.e. Belarus, Russia and Ukraine. In 2015 around 15 million of legitimate travelers had to undergo lengthy, costly and cumbersome Schengen visa procedures. In their paper Andrei Yeliseyeu and Krzysztof Mrozek review the European Commission proposal to change the Schengen Area visa rules and explain the outcome of discussions on this document in the European Parliament and the Council.
Schengen visa rules is an important issue for Eastern Europeans. In 2015, Russia, Ukraine and Belarus were placed 1st, 3rd and 5th in absolute numbers  of Schengen visas issued among some 140 third countries whose nationals are subject to visa requirement for short-term travels into the EU.
There is no direct link between visa liberalization and the dynamics of long-term migration and asylum requests. The facilitation of visa rules for legitimate travelers would not aggravate the refugee crisis, but rather help the EU in covering the costs of caring for refugees by bringing money into the EU economy and creating new jobs, argues EAST Research Fellow Andrei Yeliseyeu in a paper co-authored with The Stefan Batory Foundation's expert Krzysztof Mrozek. It is estimated that over five years, more relaxed visa rules could mean up to extra EUR 130 billion and the creation of as many as 1.3 million jobs in the EU's tourism and related sectors.
EU visa relations and visa requirements for the Schengen area
Red – Schengen visa required, no VFA; Yellow – Schengen visa required, VFA in force; Green – No Schengen visa required; Dark blue – Schengen zone; Light blue – EU States not part of Schengen.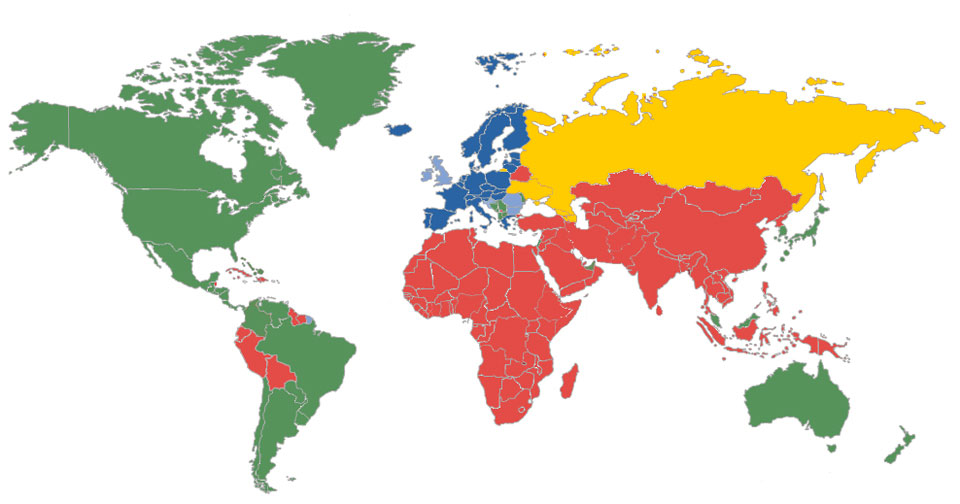 (Source: European Commission, modified)
A series of hearings and deliberations in the Parliament and the Council have shown a clear divergence in views between the two EU bodies. While the MEPs are largely positive about the idea of facilitating visa procedures, the Commission's proposals find conditional support from EU Member States, mostly subject to effective third country cooperation on readmission.
In case facilitations for regular travellers remain to be linked with readmission agreements between the EU and a third country and consulates retain unreasonable discretion in deciding on the length of multiple-entry visas for regular travellers, the amended EU Visa Code will be largely depreciated, researchers conclude.
Read full paper: