Belarus opens a visa-free stay for up to 5 days for the citizens of the EU, a dozen of other European states, the USA, Japan, Brazil, and other countries. This group of countries are colored in green in the map below.
The citizens of China, India, Vietnam, Lebanon and some other countries are also entitled to a visa-free regime in case they have a valid multiple-entry Schengen visa or a visa to other European states as well as plane tickets confirming their departure within 5 days. These countries are colored in light green.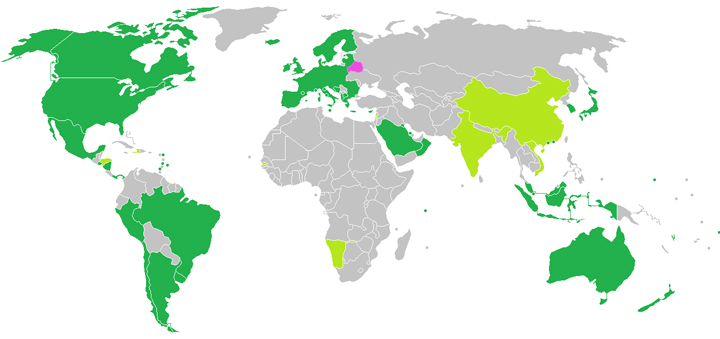 According to the presidential decree, a new visa regime will start functioning on February 12. Although this is an important symbolic move, its practical significance is quite limited. It does not give a right to stay up to 90 days within 180-day period as standard free-visa regimes allow.
Instead, Belarus proposes a visa-free entry for up to 5 days. And it will only be the case when entering the country by air, through the Minsk National Airport.
The citizens of neighboring Poland, Lithuania and Latvia normally travel to Belarus through land border crossings, i.e. by cars, buses and trains. Trips to Belarus by plane remain quite expensive. Furthermore, the visa-free regime will not apply to people arriving to Belarus by plane from Russia or planning to go to Russian airports after stay in Belarus.

As a result, this will hardly lead to a considerable increase in business trips, tourism and private visits of foreigners to Belarus.